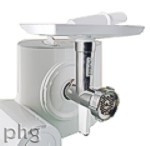 BOSCH UNIVERSAL PLUS FOOD/MEAT GRINDER has a longer leg to accomodate the extra length to attach to a Universal Plus instead of a Universal. If you own a Universal you will need to add a shorter leg to this unit to fit properly on it. This attachment for the Bosch mixer grinds and minces meats, stuffings, and virtually all foods. Comes with a 4.5 mm disk for general use; other sizes (found in "
Universal Meat Grinder PARTS
) are available to achieve any desired consistency The Universal Plus is turned onto rear-mounted rubber feet, as shown, to operate the grinder. We've tested the Universal meat grinder side by side with a wide selection of competitive stand-alone meat grinders on the market, and the performance of the Universal unit towered over the rest. It really cranks out meat and other foods. For the best ground meat texture and easiest grinding, chill meats almost to freezing before grinding.The Universal meat grinder also is the basic attachment for these accessories:
Fruit and Berry Press
,
Grater for nuts and hard cheeses
,
Sausage Stuffer
,
Cookie and Pastry Press,
and the
Pasta Maker attachment.