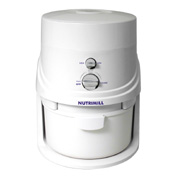 NUTRIMILL Grain and Flour Mill--It's the first high speed stoneless flour mill that has multi-texture capability. It's a better way to make flour.
Instead of stones, the Nutrimill has special TruGrindTM milling heads to mill grain into flour. This type of micronizing head is widely used for producing a fine grind. The difference is that unlike all others, the Nutrimill can produce a coarser grind texture such as would be desired for corn meal. Other micronizing mills can only produce fine to extra fine flour. Along with the special milling chamber, a variable drive motor lets you get the texture you want in a high speed electric mill. We can mill any grain or legume so rice flour, soy bean flour, lima bean flour are all possible. CSA/UL approved
Nutrimill Features
- Over 20 cup bowl capacity (largest available).
-1 to 1 ratio for milling grain into flour- fill the hopper once and get a full bowl of fresh flour.
-Patent Pending TruFeed precision grain flow control.
-World's First variable, high speed, mill motor.
-3xAirFlow for improved motor cooling and longer mill life.
-Improved texture control- from fine flour to cereal grain.
-TwistLock securely and easily locks the lid on the bowl.
-Easy to remove multi-function module
-Simple storage- hopper extension fits into bowl.
-Convenient cord storage.
-Easy grip hopper lid for easy access and quieter operation.
-TruTrack bowl locking system- connects right everytime.
-weight 12 lbs., height 12 inches, diameter 12"
Shipping is Flat Rate $14.00
Electric Flour Mills vs. Hand Flour Mills--Comparison Points