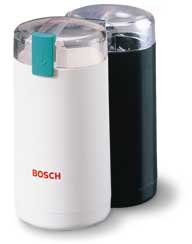 The Bosch "Brazil" Flax and Coffee Grinder mills up to 3 ounces of roasted coffee beans or at a time (enough for 15 cups of coffee). It is also great doing flax seeds to add to your bread or cereal as you need to. Just press the power switch and the long-life stainless steel blades go to work. The longer it runs, the finer the grind. You make the choice.
These make excellent seed mills, too!
Grinds shelled nuts and certian types of spices.
180 watts. 6-3/4" high.
1 year warranty