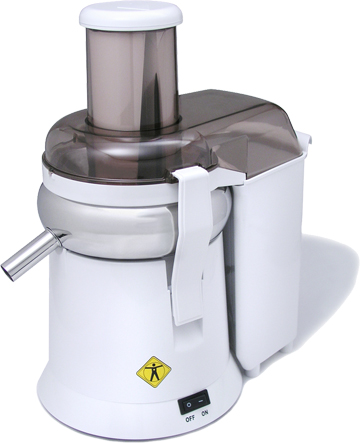 The XL Juicer by L'Equip The L'Equip® Model XL Juicer is a big mouth juicer designed with convenience in mind. With a huge 3 inch feed tube, you can even juice apples without slicing. Automatic pulp ejection means no stopping to clean out the pulp basket. The 900 watt motor provides the extra power needed when the juicing gets tough. L'Equip offers this juicer for about 1/2 the price of almost identical juicers that are popular on the market. Despite its compact design, the L'Equip model 215 features a heavy duty universal motor, providing the most power and highest efficiency of any other juicer in its class
The L'Equip Model 215 features a patented pulp ejection system. This eliminates clogging problems by popping the pulp upward and dropping it through the rear into a separate container. No longer will you have to stop and start to empty the pulp receptacle
Features:
Powerful Efficiency
Patented Ejection System
Affordable
The L'Equip XL Model 215 offers professional juicing at a most affordable price.
The L'Equip XL Model 215 carries a six year manufacturer guarantee and is one of the easiest juicers on the market to clean.
Continuous Juicing
900 Watts
11,000 RPMS
Extremely high yield
15" high
Manufacturer Guarantee, 10 year warranty
User-Friendly Ease
UL/CUL approved
Benefits:
The best prie performance ratio on the market
A perfect start to your day - fresh juice every morning
Fresh juice is packed with vitamins, minerals and enzymes.
The best, easiest way to supply nutrition that kids enjoy.
A delicious and easy way to be healthy.