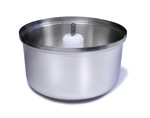 BOSCH Universal New Style Stainless Steel Bowl 3 pin splash ring
The Redesigned New Style Stainless Steel Bowl for the Bosch Universal mixer has a center drive shaft, enabling the Universal's standard wire whisks and BreadMaster dough hook (as well as the new accessory cookie paddles) to be used in it. Capacity is 5 quarts, the same as the Makrilon bowl. This bowl is sold without dough hook, whisks or lid, because those pieces from the Universal's standard Makrilon bowl fit onto this bowl. Fits on the Universal's low speed drive. The drive shaft detaches in seconds from below for quick, easy cleanup.
This bowl will fit older Bosch machines but may require a new style splash ring.