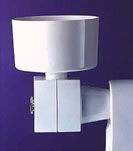 BOSCH UNIVERSAL PLUS OAT FLAKER, OAT ROLLER, GRAIN ROLLER ATTACHMENT by Family Grain Mill
Most of our customers who buy the flaker mill use it as an oat flaker, to turn oat groats into oatmeal. The finished product is not like the paper-thin oats commercially available... oats flaked with the Universal Flaker attachment are thicker, chewier, and fresh -- with no preservatives added. You start with oat groats. Oat groats are oats with the kernel's indigestible hull removed, and they're available from most health food stores and natural food cooperatives.

You can also flake wheat with the Flaker by adding 1 tablespoon of water to a cup of wheat berries and allowing to sit overnight in a sealed jar. Pull cover off flaker after rolling moisturized grain, to be sure nothing moist remains on knurled roller, because this would cause corrosion.

This oat flaker mill can be operated by hand crank, with the addition of a hand crank or will fit on the Universal where the bowl goes.. Whichever drive option you choose (and many of our customers purchase both), the oat flaker snaps onto either drive base in seconds. Operation could not be easier: Just pour oat groats into the large hopper (illustrated at link below), turn the crank or turn on speed one, and flaked oats drop into your container beneath the oat flaker. Quality and fit of this German-made mill are outstanding.

Fast Cleanup & Dust-Free Operation: The Flaker Mill components remove quickly for cleaning. The grain mill head disassembles completely in five seconds, so it's quick and easy to have your mill ready for its next use. And where many mills create a cloud of flour dust to settle everywhere, the flaker operates dust-free.


Warranty: Manufacturer's 5 year warranty.