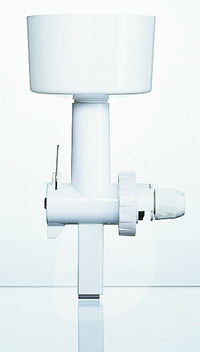 Family Grain Cereal Mill Attachment for Bosch Universal Plus
Versatile Multi-Grain milling: The grind is infinitely adjustable, from fine for bread flour, to medium for "Cream Of Wheat" style cereals, or coarse for steel cut or cracked grain. The milling head grinds corn, soybeans, wheat, oats, rye, barley, rice, spelt, flax, buckwheat, millet, coffee, kamut, quinoa, and sesame (doesn't grind popcorn.) It will also mill some chopped, dry, non-oily herbs and spices. The Family Grain Mill grinds cool to preserve nutrients. Large 5 cup hopper capacity.
Grinds Herbs & Spices in small quantities: Click here for more information

Quality Construction: Manufactured in Germany by Messerschmidt, the Family Grain Mill is built with high carbon steel and premium Lexan polycarbonate (football helmets and industrial safety shields are made of Lexan) with great attention to detail. It's a durable grain mill capable of a lifetime of dependable use.


Nutrient Preservation: The milling head's conical steel burrs shear grain without friction, avoiding the heat created by most grain mills - heat that can destroy many of the nutrients in your flour. And unlike stone burrs, steel burrs won't gum up or glaze, and don't add grit to your flour. The Family Grain Mill's high carbon steel burrs are long lasting and easily replaceable.


Fast & Easy to Use: A cup of fine flour is produced in just in a minute and half when attached to the Bosch. Overall time/effort is four times less than required by most hand mills that produce a coarser flour. Hopper has generous 5 cup capacity.


Fast Cleanup & Dust-Free Operation: Family Grain Mill components remove quickly for cleaning. The grain mill head disassembles completely in five seconds, so it's quick and easy to have your mill ready for its next use. And where many mills create a cloud of flour dust to settle everywhere, the FGM operates dust-free.


Quiet: The Family Grain Mill will be very easy on your ears.


Easy Setup, Compact Storage: The Family Grain Mill motor base is free-standing in use, while the hand base clamps quickly and securely onto a table or counter edge, without marring. Small or large bowls will fit under the mill head to collect flour. Modular design of the Family Grain Mill stores compactly.


Mills: Wheat flour, corn meal flour, oat flour, rye flour, barley flour, rice flour, spelt flour, flax flour, buckwheat flour, millet flour, coffee, kamut flour, sesame, and more. Also cracks grain to any size -- you can set the adjustment dial to any size from flour or meal to cereal grind or cracked grain.


Warranty: Manufacturer's 5 year warranty. (excluding replaceable burrs)