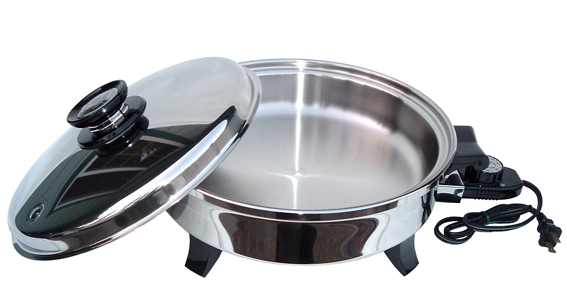 This beautiful 18/10 Stainless Steel Skillet has an internal high viscocity liquid (oil) that heats the entire skillet across the bottom and up the sides of the pan. This allows us to evenly cook anything and and hold it at the temperature we want for any time period. I use it to keep my chocolate at the right temperature for dipping, but you can see there are many other uses.
Polished T304 superior quality stainless steel
resists pitting, cracking and chipping. Your
skillet will keep its beautiful appearance for
years. Special grade, high temperature oil, sealed
between layers of stainless steel, distributes
heat evenly over the entire cooking surface.
The fantastic oil core will keep foods piping
hot even after the skillet is unplugged.
Multi-purpose skillet is great for roasting, sautéing, pan broiling and baking.
Liquid oil core spreads heat evenly over the entire pan cooking surface and up the sides.
Retains heat to keep foods warm and looks great on the table.
Completely immersible and dishwasher-safe when the heat control is removed.
Full 50 year warranty (5 years on the power cord)
Pleasurable dining any time of day - elegant dinners, hearty breakfast, quick lunches and nutritious snacks. Create all this and more with the "oil core" cooking concept.
So Many Everyday Uses:
Braise meats or vegetables

Roast, fry or bake potatoes

Make roast beef, pork or poultry

Fondue main dishes or desserts

Grill pancakes or sandwiches

Bake cakes or muffins

Create casseroles

Pan-broil steaks or chops

Sauté vegetables

Stew meats

Poach fish or fruits

Prepare chicken or seafood

Stir-fry meats or vegetables