Bosch Universal Plus Attachments
Overview of Bosch Universal Plus Attachments VIDEO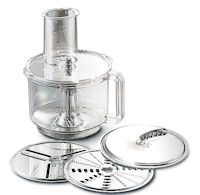 Bosch Universal Food Processor
MUZ6TS5
This Bosch Food Processor comes with 5 cutting surfaces in only three blades. The slicing blade is 1/8" thick on the course side and 1/16" on the thin side. The shredding blade has a course and medium texture. The final blade is the potato shredding disc. It works wonderfully to grate almonds into a fine flour and ice cubes into snow. It is a wonderful addition to you Bosch mixer. This attachment also comes with an "S Blade" for chopping vegetable, making salsa, graham cracker crusts, pesto and chopping meats. The bowl has a one liter capacity. Safety feature will not allow you to remove the lid with attachment connected to the mixer.
Fits Bosch models UM3, MUM604070, MUM6680UC, MUM6401UC MUM6621, MUM6622, MUM6610 as well as the all new Universal Plus Machine.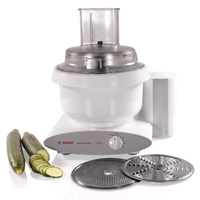 Bosch Universal Plus New Style Slicer/Shredder
If you ever want to grate or slice a lot of food at once but found the regular 8 cup capacity of the regular Slicer/Shredder too small, then this is the attachment you need. It is designed to fit over the regular Bosch Universal bowls or Universal Plus bowls that have the tabs for the splash ring on the inside of the bowl (including old and new stainless bowls) and grate or slice the food into the bowl so you double the size of the quantity you can process at one time. ( now 16 cups or 6.5 qt.) . It is easy to assemble and clean with durable parts that will continue to work for years. The 3 stainless blades sit on a cam that fits over the shaft of your bowl and the splash ring/lid assembly attaches to the splash ring tabs. It is designed to fit both 4 and 3 tab bowls. It comes with the thick and thin slice reversible blade, the fine and coarse reversible grate blade, and the very fine potato shredding blade, however there are 3 other blades that can be purchased separately that can be added to this unit including the French fry or dice blade, the julienne blade and the coarse rasping blade that shaves ice or any other really hard food like chocolate.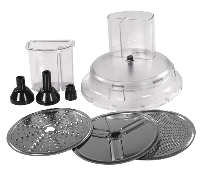 Bosch Bowl Shredder Accessory
MUZ6LS1
The New lid slicer shredder conviniently attaches on top of your mixing bowl (fits UM3, with splatter ring that attaches inside mixing bowl, all MUM6 series and MUM6N series) Pusher opening is larger than the MUZ6TS5 slicer shredder and offers a small pusher for carrotts and celery etc. These items can be sliced or grated, without falling over. Includes a reversible thick/thin slicing disk, a reversible coarse/fine shredding disk, and potato shredding disk. We use the coarse shredding blade for chopping walnuts and pecans, hash browns and cheese etc. The fine shredding blade for finely shredded cheese, carrots for carrot cake and zucchini for zucchini bread. The slicing blade for vegetables for soups and salads, slice olives, mushrooms and peppers for pizza etc.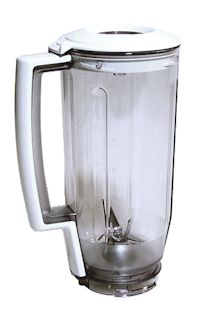 Bosch Universal Plus Blender
MUZ6MX3
Complete with steel blade assemby.
This all-new blender has stainless steel blades that are scientifically bent and twisted to rotate the ingredients more efficiently from every point in the blender. When operating the blender, you will see that the blended ingredients move up the sides and then pulled down the center. The blades are removable via a wrench built into the blender lid. Coupled with the 800 Watt motor on the Universal Plus this is a most amazing blender.
The All-New changes are:
The lid has a larger funnel
There is a safety switch built into the lid.
The lid locks on by twisting
The blade assembly is all metal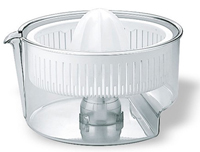 Bosch Universal Citrus Juicer
MUZ6ZP1
Fresh squeezed juice is delicious and perks up your favorite recipes. Now juicing is easy with the Universal Citrus Juicer attachment for the Bosch Universal Kitchen Machine. This juicer fits onto the high speed drive and is perfect for lemons, limes, oranges and small grapefruits. The strong motor makes juicing easy and efficient. Use the handy pour spout for less mess. The Juicer has a removable strainer basket for easy cleaning and is dishwasher safe.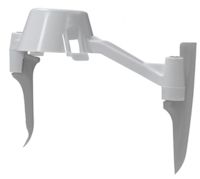 Bosch Bowl Scraper
Another genius attachment for your Bosch Universal Plus, Universal or UM3. Attaches to the whip drive while the mixer is working! Scrapes the sides of the bowl as well as the inside column as you make small batches of cookie dough or cakes. One molded piece now is more durable, covers more bowl space and cleans the bowl better.
Simply snap over the whip drive while the cookie paddles or whips are attached. Tip: Oil the blades before use.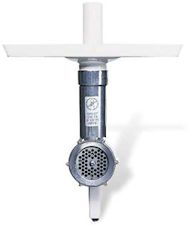 Bosch Universal Meat Grinder
MUZ6FW3
Designed to fit the All-New Bosch Universal Plus mixer. (*can be modified to fit older Bosch Mixers.) It easily grinds raw meats into ground hamburger or cooked meats into sandwich spreads. Make sorbets out of frozen fruits. Nut butters out of peanuts, cashews, almonds. (use accessory disc 2mm for smooth peanut butter) Make Pulse out of seeds, dates, prunes and fruits. Made of metal and rugged plastic, the grinder comes with a stainless-steel 4-blade cutter blade and a stainless steel disc with 4.5-mm perforations. The grinder is capable of processing up to 4 pounds (1.9 kilograms) per minute. It disassembles easily for cleaning.
Features:
Stainless-steel cutting blade with 0.18-inch (4.5-mm) perforated disk
Processes up to 4 pounds (1.9 kilograms) per minute
Dimensions 11.82 long, 6.11 wide, 3.82 high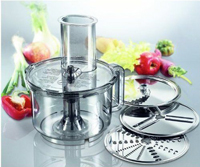 Bosch Universal Slicer Shredder
MUZ6TS5
This Slicer Shredder attachment for the Bosch Universal Mixer is a marvelous tool. Slice potatoes for Scalloped Potatoes, thin vegetables to saute as a side dish. Use the shredding disk for grating large amounts of cheese for any number of recipes or carrots for cake, the uses are endless. Easy to attach and easy to clean. Additional blades are available in these styles: julienne, rasping, & fine grating.Features: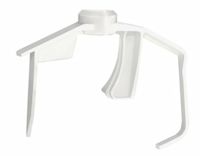 Bosch Mini Dough Hook for Slicer Shredder Accessory
MUZRG3
This mini dough hook accessory is for the slicer shredder /small bowl accessory.
This small accessory will allow you to knead smaller batches of heavy doughs such as pizza, bread, rolls etc.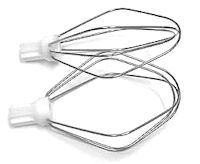 Bosch Universal Batter Whisks
Batter whisks have only three stainless wires closer together than the wire whips that come standard with a Bosch mixer, to allow easier cleaning. These whips are designed for heavier batters. To make large batches of cookies, we suggest the Cookies Paddles . For a single batch these batter whisks are great. Also we have the replacements regular wire whips.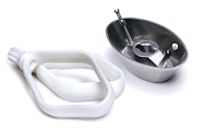 Bosch Universal Plus Cookie Paddles
MUZ6CP
Bosch Cookie Paddles are made out of heavy duty delrin material. Ideal for heavy batters and non-yeast doughs like cookies and candy-making. 1 yr. warranty. Use only on metal whip drive. If you have a Universal Plus machine with the White plastic drive we recommend you order the paddles and metal whip drive combo # MUZ6CP2
Set of 2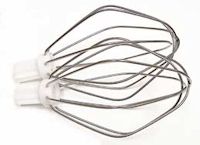 Bosch Universal Wire Whips
Replacement whips for the Bosch Universal and Concept 7 series mixers. These work great for light batters, cream, egg whites, soft potatos, etc. Watch the video below and see how wonderful these whips are for shredding chicken and mashing potatoes!
Quantity - Your choice of a single or a set of Wire Whips)

Using Bosch to shred chicken video demonstration:
Call Ruby at Hillsmills.ca 1-866-327-3559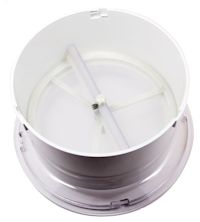 Bosch Flour Sifter
This flour sifter is perfect for sifting whole grain flour for cakes, tarts and other pastries and bread. This flour becomes unbelievably fin.e This is a 70 mesh screen. (210 micron)
Includes: special splatter ring, sifting bowl, sifting brush and screen, connecting stainless steel shaft with roller ball bearing, silcone spear gear protector and locking lid.
MUZ6FS3 for older style Universal (bowl with 3 locking tabs)
MUZ6FS4 for Universal Plus (bowl with 4 locking tabs)